Hayat Ammouri Interviews Christian Louboutin
" It was always about the shoes, and nothing else…"
He started working when he was 18, and he had his shoe company at age 27. In 1991, Christian Louboutin opened his first store in Paris.
Did you really think I was going to miss my interview with Monsieur Louboutin? No way! Not even a snow storm in New York would hold me back! And here I am, with my new fringe skirt,  my gold beaded tiara headband.. But wait? What shoes should I wear?
He greeted me with his team at his boutique in Beirut with a big warm smile. Now I know I was always right! He truly is every woman's best friend! He is this passionate man, a little shy, very sensitive, playful, caring, and super fun.
How come you chose to create shoes?
I always loved shoes since I was a kid. It has always been my passion. It was always about the shoes, and nothing else.  
Where do you find Your inspiration? 
Everywhere. It could be a door handle, or maybe the metal work, or simply beautiful colours. What is important is to have pen and paper. I look and stock everything in my memory, all the little details. I have everything engraved in my mind. Then when I am designing the collection, I like to isolate myself. Working on my collection requests a lot of concentration; it's like cooking. Things go up, down, then I sleep on it, and I go back. 
Does each collection have a link, or is every shoe separate? 
Not necessarily. I work in a very free way. Sometimes I have a book in my mind, few pictures that I have been storing. Next season for example, I am working on an American Indian theme. 


My favourite is always changing. It can come from Love to hate at one point. The first season in 1991 I had a pair of shoes that said "Love". I loved it, but then after few months, I hated it. I was fed up. Because I did an entire collection, and people were focusing on this shoe only. As a designer, I wanted them to look at the entire collection. I was thinking I really did nice shoes, but people focused on that pair. Then I thought thank God because these shoes kept me in business, so my partner said I have to redo the same pair. I created 24 pairs in black suede and beige patterns, and 24 pairs in black with red letters, a total of 48. They got sold very quickly. 
Usually, being passionate and artistic does not get you business success. How were you able to make it? 
I have been helped by 2 of my best friends. Bruno, our CEO, took care of financing and took away the weight over my shoulder of everything that was technical and business. The first 2 years were very fragile, and very weak, but I never got a sense of that during that time. It's not only that we were not making money, but we were losing money. I was very protected. To design you need freedom. So I kept this freedom, the lightness. And they took care of this heavy side of the business, and I owe him that for sure. 
What was the key to success in your case? 
To be true to yourself, don't surf on people's ideas or trends. If you focus on what you like it means you focus on who you are. Otherwise you're just answering people's need . For a short moment, it's ok; you will succeed a little but it will be for a very short term. 
What are some traits in your personality that we could also see in your designs? 
My designs are feminine and sexy, but I wouldn't say that of me. 
I would say a sense of humour and attention to details…. 
Ok, I accept. 
But you need to answer the question. 
I would say Weirdly but deeply Parisian, together. Paris has this very pretentious vibe. Very presumptuous. We are the epicenter of fashion. When you are born and live in Paris, you have this very much in you. … and I am mainly A life lover! 
When you see a woman, do you first look at her shoes? 
No I am looking at her face, and usually, there is this little twisted game I play in my mind. As we speak, on purpose, I am not thinking of the shoes. I am analyzing her personality to then try to guess what kind of shoes she has. Probably she has boots, or a pair of complicated sandals, or maybe dancing shoes… I try to guess and then I look. 
Why are Louboutins always connected with sex appeal?  
It's something I like about women. I know how important it is, sometimes, not all the time, to feel desirable and sexy. And it's not about other people, it's for you. When women wear heels, they behave differently and feel differently, but not because of the shoes, because of the posture. What they really like is how they feel in the shoes. 
I saw once a couple of friends at a store, one of them was Spanish; when she tried the shoes, you could see right away the sparkles in her eyes. She said she doesn't need a facelift, and shoes are much cheaper. With a little change you could feel much better. 


Why is it always the shoes that make us happy, not the bag or anything else? 
Because of its symbol. The shoe fits with your body language. You can be naked with shoes, it won't feel naked. It feels normal. A woman who is naked with only shoes on, is natural. But a woman naked with a bag, for example, it's  not natural. 
At what age should a woman get her first Louboutins? 
Never before 12 for sure. If it's a high heel, not before 16, because your body is still shaping. Your foot will change, your arch will change. After you graduate from school you can get high heels. Louboutin shoes will not bring you friends at school. 
When buying the first Louboutins, should a woman choose the crazy pair she fell in love with or a classical one? 
It's a complicated story because it depends on the woman and her budget. It depends on what you need at that time. If you want to feel secure, you want stability, then go to classic in your wardrobe. But if you really fell with a crazy pair of shoes, then get it for sure.
Nude or black? 
It depends on the country you live in. In solar countries I prefer nude. If it's cold and dark, go for black. If it's hot, go nude.  
What are the essential shoes in every woman's closet?
A pair of black pumps, it works a lot. Because you have a million occasions, office, work, dates, etc.. Then the nude, either a peep toe or a pump, and it needs to be exactly the same colour of your skin; you can wear this with dresses for example. Try also a short pair of boots, it's easier: it grabs your foot, so you won't loose it, so you could go on a very high heel booties. It's really helpful. 
Then every woman needs something showing your uber femininity, something sparkly, definitely sandals, more like jewelry sandals. And with that you could walk the world.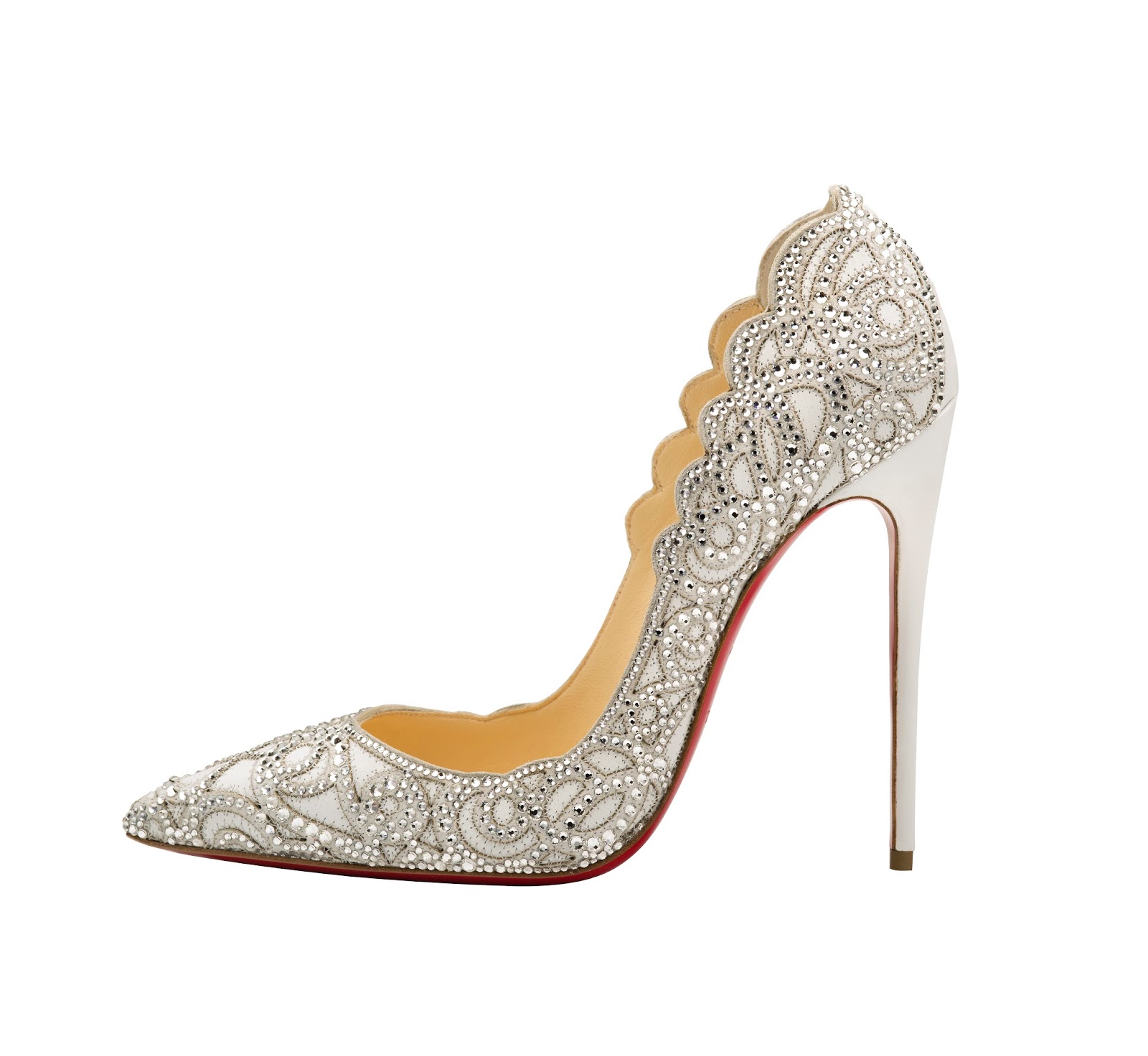 Christian Louboutin Top Vague Suede Crystals
What's a mistake a woman always make with her shoes?
It's very personal, but I always have a hard time with solid white shoes. it's always women who are wearing solid white shoes.  I like white shoes, but when they have an element. White sandals could be nice too,  but solid white pumps makes your foot bigger. Black slims the foot. Black patent reflects the light.  
What's your advice for brides? 
It really depends. By experience, I know when I make a special order for bridal shoes, I always make 2 pairs, but I don't tell them. I always make the emergency shoes. 
At their weddings, girls sometimes want to go crazy. Their wedding is their most fabulous day, and they want something fabulous for that occasion. But on the wedding day, insecurities strike them and they freak out on the shoes.  So I always make 2 pairs, without telling them, with the same heel. And they usually use the simple one. 
Three times minimum or 4 out of 10 times, I always end up seeing the fabulous shoes on the sister.  
Sarah Jessica Parker called your shoes "lover"… 
Sarah Jessica Parker got married in my shoes. I first met her in NY at a theatre. I did not know her at that time. She smiled at me, and she had big curly hair, and told me that she got married in my shoes. She's a very very sweet person. But I don't live in America, so I didn't watch Sex and the City. 
Let the Louboutin Woman Live Her Fantasy
Most celebrities already wore your shoes. But is there any woman in particular you would like to see walking in your shoes, if it could be any woman you want? 
If it's one person that I would be proud and happy to see walking in my shoes, it has to be my mother. But she died just before I started my company.  
What about your sisters? Do you take their advice about shoes? 
No. I don't take their advice. I say be happy you have free shoes, it's more than enough… (laughing) 
In your new campaign, you have the woman taking a bath with the shoes. Aren't you afraid these women are really going to try to do the same?
They should definitely do what they want. As long as there is no electricity it's fine, let them live their fantasies. 
How are men different from women when choosing their shoes? 
They are both excited to get new shoes. They both love to get new shoes. But when a man tries on a pair of shoes, he doesn't look excited. A woman will look at herself in the mirror, then look at the shoes. A man will stand in front of the mirror and tap his feet on the floor. It will not affect the way he walks, it's not about his whole body. It does not have the same body attitude on both.  
How do shoes empower women? 
Shoes fully empower women, it makes you a little taller; it gives you height, and suddenly, you're talking to your boss at the same level.  
How do you collaborate with designers during fashion week? 
They would generally come to me and I am listening to their needs. It's a nice way for me to work close with designers, because usually I am never thinking about fashion when I design my collections. 
What part of your job you enjoy the most?
Drawing. 
A lesson learnt: Nothing is better than freedom. 
You can't resist: I can't resist in general.. I can't resist anything. 
In your suitcase: Goggles, swimsuit, my phone of course, a hat, always. Always sunglasses, even if I am buying one at every airport. A bow, even if I don't wear it. 
Latest Splurge: A beauuuuutiful mask; an American Indian mask that I use as decoration. At Sotheby's. 
Proudest of: Remaining the same person. 
Surprising about you: I am always surprised because people are surprised when I say I do trapeze… They say really?
You do trapeze? 
Yes .
Really? ….. 🙂
Can we take a picture together?
No…. (smiling)
But the main reason why I really came to the interview is to take a picture with you…