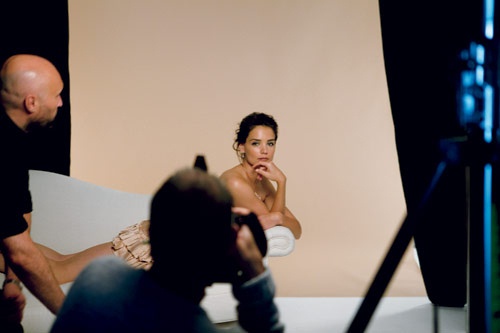 Katie Holmes, The New Face for Bobbi Brown
Katie Holmes, who is now living in New York with her daughter Suri, is the new face for Bobbi Brown. She's the first celebrity to represent the Bobbi Brown line, and I don't think there could be a better fit!
See how you could get to know Katie's beauty routine and what she likes from the brand, and also how she spends her time in New York City.
How do you choose the brands you represent?
I look for quality, because it's my face and my name. so I have to believe in the product. Particularly with Bobbi Brown, I was so honoured when they approached me and when I met Bobbi. She created such a great line that women around the world have been using for many years. She's such an amazing woman, and she's an inspiration in life. Really, I am so happy to be her friend. It's a real thrill to be the face for her brand.
Did she personally teach you any beauty tricks?
Yes, she taught me how to blend, how to put blush, and that what lights up brunettes is different from what lights up a blonde. If I feel like I look tired, I should apply blush!
I love her products, there is sparkle in most of them, and you have a certain Bobbi Brown glow. You feel good when you leave the house.
What are your favourite beauty products?
I love her cream shadows, because I can fit it it a large bag, an evening purse, or sometimes even in my pocket, and I quickly apply it. I know how to do it, it's not tricky, I could just whip it on. If you suddenly have to go to a night event, it really kind of lightens up your face.
I also love the shimmer bricks, the rose shimmer brick and the bronze shimmer brick. It's a nice product that you wear and it doesn't really look like you have make up on. I also love her concealer and corrector combination. The cream concealer is really easy to put on. You need to have that moisture in the concealer around the eyes. You don't want something dry, it's uncomfortable and it doesn't blend very well, so  I really like her concealers.
I also love Pot Rouge. 
Do you you usually use brushes?
I use her brushes when I am home; I take my time with my make up, and it's wonderful. But the beauty of her products is that whether you are on the go and you don't have a lot of time, or if you do have time, they just work wonderfully. I don't like to wear a lot of make up on, it makes me look "yucky". 
How often do you wear make up when you're not working?
I wear make up everyday. 
Did you also like make up and fashion as a little girl?
I did like make up and fashion as a little girl. I have 3 older sisters, I always watched them put make up on and get ready to go to things. I still look up at them, and study how they did it and how they transformed themselves. I always enjoyed fashion as well. It's fun to dress up and create different looks for yourself. It's a reflection of how you feel that day and who you are.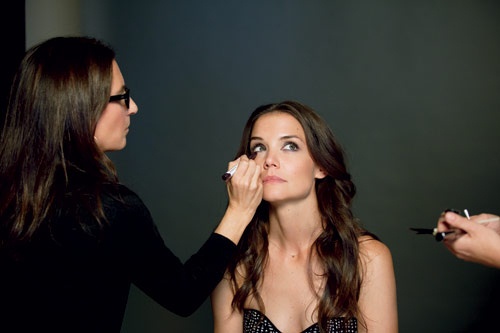 Katie Holmes with Bobbi Brown
Is your style as simple in fashion as it is in make up?
Yes, but I really enjoy the detail of things, whether a certain kind of button, or a leather trim.. I really enjoy it; and this is what I love about Bobbi Brown's make up, the details of her products that allow for a really overall great look.  She's got colours, particularly with her cream shadow stick she has, the icy blue and "forest", an amazing green, with gold and pink spark.. These colours make the difference in changing someone's eyes, and that's what gets me excited. 
Are you strict with exercising and dieting? Do you follow certain rules?
I drink a lot of water, that's a rule of mine. I try to sleep as much as I can. I enjoy exercising. I don't put pressure on myself to have to do it every day. It's a fun thing for me. I grew up running, I have always been an athlete. I enjoy going for a run running or biking or hitting a yoga class.
How do you  like living in New York City now?
I always liked New York City, and I have lived here twice. Now I am doing a play on Broadway. Right now it's exciting because of the holidays. The Rockerfeller Centre, the circus, The Nutcracker, it's a great time.
What are your favourite things to do in New York?
The museums in New York are unlike any other place in the world. I like to spend my days at the MOMA, at Central Park… The restaurants in New York are amazing, I always like discovering new places… The Botanical Garden.. It's the people of New York.. They have a great sense of community. After Hurricane Sandy for example, it was so hard and awful for so many! People started giving so much of themselves to help other people, and that's so inspiring. I love that about New York and New yorkers.
How is it going with your play?
It's going really well. We have wonderful audience, and I really enjoy the people I am working with. We have really a good time. I LOVE doing theatre. It's wonderful; it's a great job. 
How do you relax after a hectic day at work?
I like reading to relax.. I enjoy reading. We do our play from 8p.m to 10 p.m. So I get home at 10.30 p.m. I like to just read. That kind of calms me down.
What kind of books do you like to read?
All kind of books.. Right now I am reading a book for Maya Angelou…