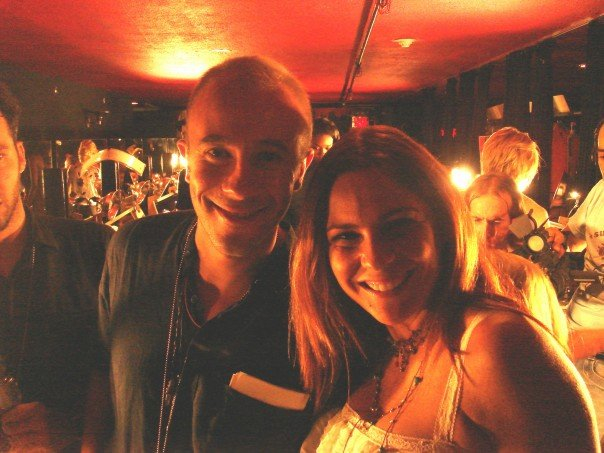 The First Time I met Laurent Philippon
NYFW- Baby Phat
Laurent Philippon, for years, always there backstage in New York Fashion Week! Needless to say he's one of my favourite hairstylists, very creative, fashion forward, and so much fun!
Laurent has worked on so many shows like Hervé Léger, Ralph Rucci and Georges Hobeika, and so many celebrities, including Queen Rania of Jordan, Lebanese singer Najwa Karam, Uma Thurman, Demi Moore and many others.
Away from the runway, this time we're going to talk Bridal! Laurent gives advice to every bride on how she should take care of her hair and get it ready for the Big Day! Enjoy!
When should a bride start looking for her wedding hairstyle?
It's always better to start as early as possible; as soon as you know what you're wearing on your hair, a veil or a tiara..It helps if you already know the hairdresser, but if you don't, it's better to go a couple of months in advance, so you could have a second thought.
How should she start taking care of her hair before the wedding?
If she knows 6 months in advance, she should refrain from doing chemical treatments, so she could have the best hair. If she needs to colour her hair or do a straightening treatment, it's better to do it just few days before the wedding so it would look fresh. In all cases she should do a lot of hair masks.
What treatments do you recommend?
The Quenching treatment from Bumble & Bumble, it has a shampoo, a conditioner, a mask and a lotion called a complex that you could leave in your hair. It treats your hair very deeply.
When should she cut her hair?
If she's going for short hair, she should try the haircut few months before, so in case she doesn't like it, she has time to grow it back.
How much time does she need to allocate for her hair on the wedding day?
I would say an hour and a half. I usually never take more than an hour.
It's her day, she's the princess of the day. The hairdresser should come up with something that really suits the bride. She should ask the hairdresser not to go very experimental. He should work on making her beautiful.
What are the things the hairdresser should know before the wedding?
He should know if she's going to wear a veil, or a tiara. I personally like flowers. I worked with a bride once, and I added a veil with "Gypsophilles" that I glued with eyelash glue. It looked like a veil.
Your wedding day is a day where you could accessorize the hair, you could use a satin ribbon, or a delicate discrete tiara. I love long veils..
The hairdresser should plan how the hair is going to evolve through the day: For the religious part, and then the cocktail or dinner, or if you want to dance, you want your hair loose…
How Could she avoid having lots of hairspray?
A good hairdresser will not need a lot of spray.
Accessories, do flowers suit every bride?
Yes.. you could use a big flower in the back of your chignon for example. I did that for Lebanese designer Georges Hobeika. It was the July 2012 bridal Show; very simple, beautiful and delicate. We created a ponytail with 3 braids, 2 of which went up on the head, and one was tied in the chignon in the back, with all bits of fabrics that looked like flowers.
Your style shouldn't look too hard. Its not a fashion show, you're not a model. You want to look romantic and soft. I like braids, and they are easy to accessorize. I like soft waves underneath, not too straight.
What are the mistakes that you see women always make?
Hairstyles with too much volume; the bride does not look modern or fresh.
What should the bride keep in her emergency kit?
Maybe some hair pins. But she's the bride, she should have the hairdresser at hand; I would suggest some perfume, that's it! Serge Lutens. It's so beautiful. It has a boudoir in the Palais Royal, you could have your perfume made for you. It's from Shiseido.
Laurent's 3 tips for every bride:
• Don't go with anything that you're not sure about on your wedding. You don't want any surprises.
• Long veils are always pretty.
• Wear comfortable shoes.
Everybody is going to look at you, but you should not look edgy.
A Style for every bride:
For the Romantic bride—- Something not too formal, soft with little curls falling around the face, and maybe a little braided detail.
For the Diva— The little tiara is good bcz it illuminates the face. Always make sure you're under a good light.
For the Classical bride— A veil is so beautiful. Like Grace Kelly when she got married. Also the princess of England. Her veil was very fluid and beautiful.
For the adventurous bride— Keep your hair loose.
Who is the most beautiful bride?
Grace Kelly & Kate Middletone.
A bride you would like to style: Adele.
What inspires you?
I have a curious eye, so everything is subject to inspirations. A movie, an exhibition, sitting in a cefe and looking at women looking by..
What makes a woman beautiful?
Inner elegance. I love women like Julianne Moore. She has class. Some women have style, some women have class, and some women, like Julianne Moore have both.