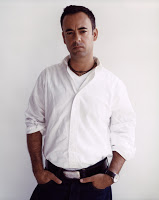 How did you start with Calvin Klein?
Prior to leaving Gucci, Calvin had called me to join his company but it wasn't the right time for me. A year later, when I had decided to move back to New York, Calvin's business partner Barry Schwartz contacted me again, and the rest is history…

How would you describe your style? What do you typically wear?
I usually wear jeans and a white t-shirt, or jeans and a white collared shirt with loafers — I can't wear anything else but loafers.


Calvin Klein is sporty, simple lines and cuts, but still it manages to be sexy. How do you achieve that?
It's all about the inspiration and the execution, and so you achieve it differently every season. Typically, when I design I imagine a woman who has a modern spirit, a confident attitude, and a style that is light, sporty, and sexy.


Do you put anything from your Brazilian style/background in your designs?
Yes, definitely. I feel that my Brazilian heritage inspires a subtle sensuality in my collections.
How do you describe your ideal customer?
The woman who wears Calvin Klein Collection is very fashion conscious – always updating herself while mixing what's current with the classics.